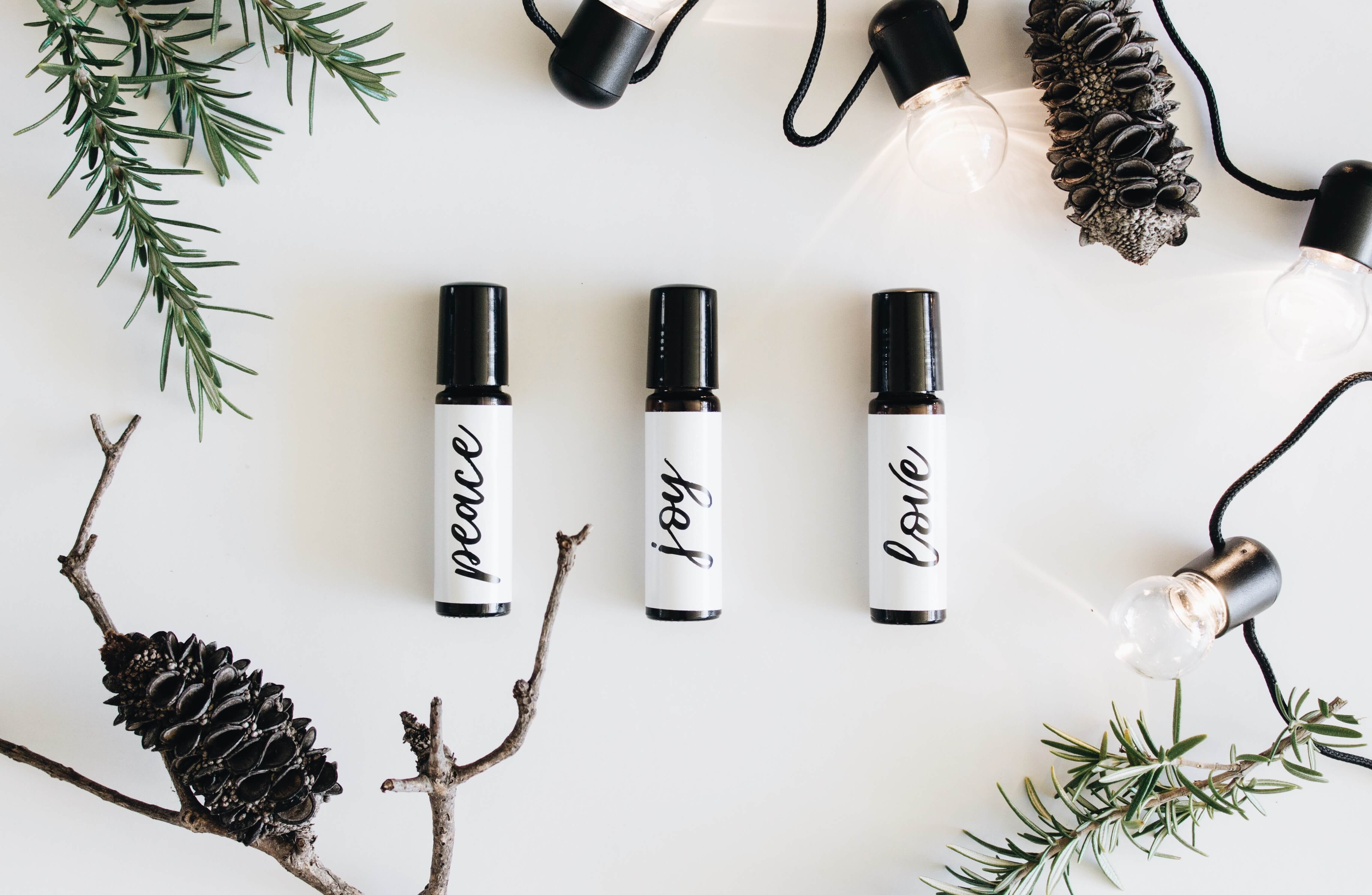 Before Christmas became commercialized, what did people gift for Christmas? It wasn't always this easy to order online or pickup a gift card. I have a feeling that gifts were far more thoughtful and likely handmade. It may be a little bit more effort, but far more meaning goes into something handmade. Handmade gifting is better on the environment, can be more personalized, budget friendly and makes gifting easier for those people who already have it all. You can turn it into a creative Christmas event the whole family will love. Making your own gifts is a great way to save time and money, especially when you have a large list of people to buy for. Give them individually, or combine them together in a beautiful box. Whatever you create, the packaging really sets the presentation and is easier than you might realize.
Read on for our 5 Creative Christmas Gift Ideas.
1. DIY Essential Oil Products
Essential oils make for beautiful and sustainable gifts. It's easier than ever to create your own products. From hand soap to cleaning products, you can find many recipes online on how to create non-toxic, beautiful household and personal items. Roller bottle blends are a great way to create something extra personalized and you can find hundreds of essential oils to support the mind and body in a large variety of ways. You can truly create something extra beautiful and thoughtful. Put together a spa gift set with an essential oil bath salt and sugar/coconut/coffee scrub. Aroma Bottles offers a large range of amber glass bottles for all your essential oil needs. If you want to get extra fancy, you can create your own labels using Adobe Photoshop and ordering stickers online by following the steps on Moo Print. For the ultimate DIY, pickup labels from your local office supplies store and a brush lettering marker and handwrite your own.
2. Polymer Clay Christmas Tree Ornaments
There are so many things you can create with Polymer clay. Christmas tree ornaments are a sentimental gift that is appreciated for a lifetime. Polymer clay is accessible, affordable and relatively easy to work with. Roll out your clay and use Christmas or any other cookie cutters to create your desired shapes. Remember to punch a hole through the top for stringing. For a personalized touch, punch cookie sized fondant letters into the clay prior to baking. Create names, christmas phrases, cheeky phrases and more. For a baby's first christmas ornament, press your child's hand or foot into the clay prior to baking. These would make great gifts for Grandma and Grandpa.
3. Personalized Christmas Cookies
Make your favourite Christmas cookies and wrap them up beautifully. Personalize your cookies with words or letters using fondant icing and cutters. Stack them in a cello bag or beautiful mason jar and tie twine around the lid. Add a christmas gift tag to finish. Check out our article on how to create personalized letter cookies here.
4. Fruit Baskets
Who doesn't love a beautiful bunch of fruit? Pick out what's fresh and in season and display it in a beautiful basket or brown box. Add in a couple of jars of dried fruit or nuts to mix it up. Scoop Wholefoods offers a lovely selection of healthy bulk goods. They sell beautiful jars too.
5. Succulent Pots
Succulents really are an affordable gift. In case you didn't know, i'll tell you a secret. You can grow your own succulents (and keep growing) from your own succulents and it's super easy! Check out how to do it here. Once you've got your succulents, pot them up. Glass jars, mason jars, concrete pots, cute teacups and canisters are a lovely way to display your succulent(s). Visit your local thrift store, and they're bound to have something to pot them in. Tie on some twine or ribbon and finish with a christmas gift tag. You can also do this with mini cactus.
These are just 5 creative Christmas ideas to get you started, but the options are endless. If you're stuck on packaging, keep it simple. Brown kraft paper bags, glass jars, and brown or white christmas wrapping create a minimal first layer. Tie up with white ribbon or twine and choose christmas tags with fewer colours for a minimal Christmas look. Finish with rosemary or eucalyptus leaves for a touch of greenery.
Happy Gifting.